Introduction

Hull is located in Northern England, approximately 3 hours from London by train. The city was established at the end of the 12th century. It entered a prosperous period in the mid-1800s, thanks to the whaling industry. During WWII, 7,000 inhabitants were killed and 92 percent of the houses were bombed, making it one of the most heavily bombed cities in Britain. Now, Hull is a dynamic, vibrant city, a wonderful combination of old and new: from the cobbled streets of the Old Town, to the Princes Quay Shopping Centre, which proudly sparkles above the waters of the Marina.

Currently, Hull offers a variety of opportunities to students and visitors: pedestrian areas for shopping, a wide selection of parks, trails, sporting activities, symphony, theatre, cinemas, and festivals. Hull is synonymous with live music, and Hull Arena is a magnet for big rock and pop concerts. The city's nightclubs invite people to dance until late. Theaters deliver internationally-acclaimed drama, comedy, ballet, opera, and musicals. Distinguished orchestras from Prague, Moscow, and Berlin perform sell-out classical concerts within the richly- ornamented Hull City Hall.

The train station/bus station in Hull is easily accessible, as is the Humberside International Airport, located 30 minutes from the city. The city centre of Hull is a mere 2.5 miles from the University of Hull campus, a great walk on a nice day or a 5-10 minute bus ride on one of the city buses that runs every 30 minutes.
Location
Hull – or Kingston upon Hull, if you want to give it their full, proper name – is located on the northern shore of the Humber Estuary, just off the east coast of England.
Hull is situated within the East Riding of Yorkshire, which means that our bustling city is a stone's throw from some of the country's most glorious countryside as well as expansive coastlines – the best of all worlds.
And one of the other great things about Hull's location is that, on average, Hull sees more sun and less rain than most other areas in northern UK, and we're warmer, too. So it's true what they say – it's never dull in Hull.
Academics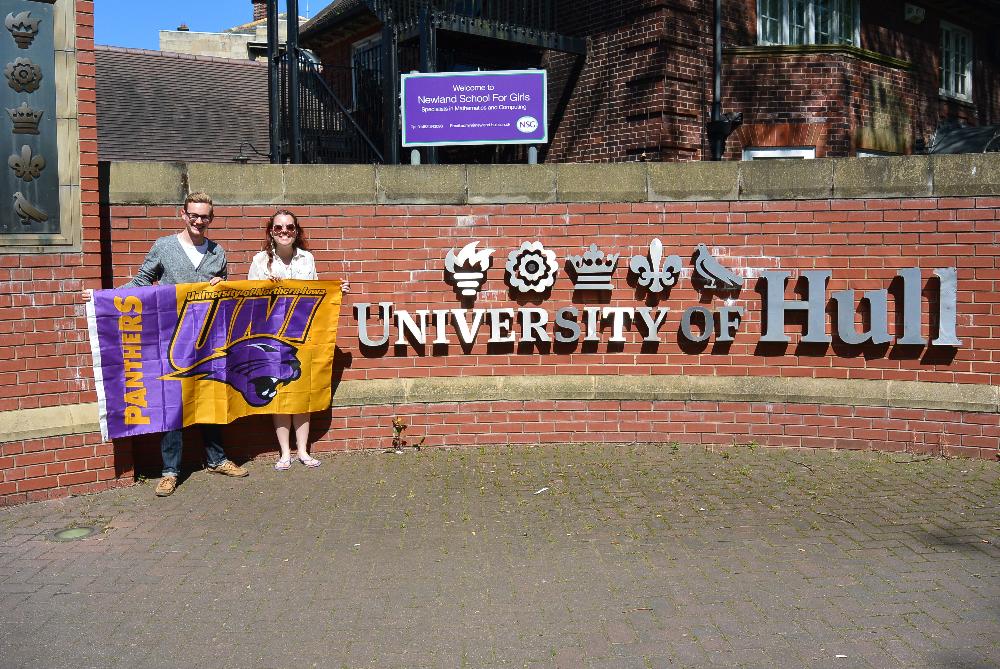 The University of Hull is a traditional university, founded in 1927, with a reputation for excellence in teaching and research. The University is known for being one of the friendliest in the UK. Study Abroad students become quickly attached to the University and think of Hull with the same fondness of their own university back home. This medium-sized university of approximately 16,000 students offers over 200 degree programs that provide a balanced education in the classroom and many enriching activities outside of the classroom as well.

Students can take courses from several areas:
Arts and Social Sciences
Education
Health and Social Care
Science and Engineering
Hull University Business School
Hull York Medical School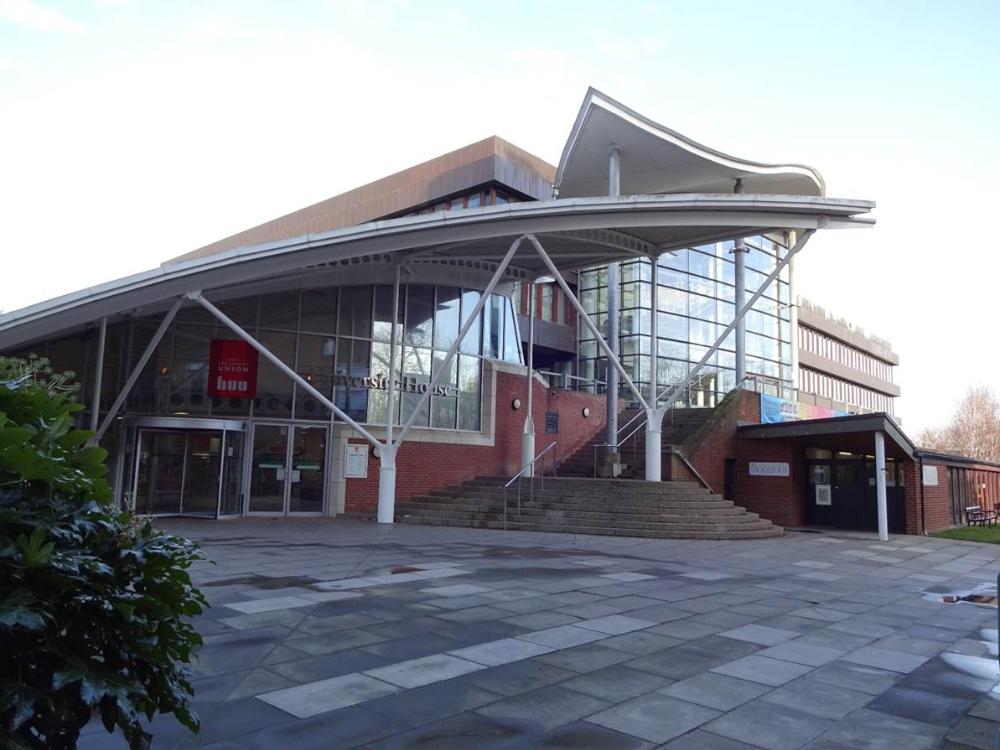 Courses are offered in many disciplines, and classes (called modules in England) are done differently in the UK than in the US. Instead of taking 5-6 courses a semester, Hull students take 3. Each module meets two times a week (usually in two different locations) for one lecture and one seminar. The lecture is a traditional lecture-style meeting with varying numbers of students in each section. The seminar meetings, however, are meant to be more discussion-style. All credit earned at the University may be applied toward your degree. Students will typically earn a total of 15 credit hours for their semester of study. Transcripts will be sent to the student's home university upon completion of program.
 
Credit Equivalents/Grade Conversion:
Credits:
Uses ECTS credits
20 credits = 10 ECTS = 5 sem hrs
Grades:
70+ = A
65-69 = A-
60-64 = B+
50-59 = B
40-49 = C 
Less than 40 = no transfer credit
Level of Courses:
Level 4 = lower level
Levels 5 & 6 = upper level
Levels 7 & 8 = postgraduate levels
NOTE: The general guidance for students studying just the fall semester is that if they plan to return home at the end of December and not return for the exam period they should; Choose modules that do not have an exam based element. Or, speak to the departments at the beginning to advise that they would like to have exams sat back home, which can accrue a fee. 
Housing & Meals
Housing: 
Set in the leafy village of Cottingham, not far from campus, The Lawns is always a popular accommodation choice. It's a cluster of halls in close proximity and an idyllic base to combine concentrating on your studies with enjoying your downtime.
With the option of home-cooked meals every day in spacious dining areas, teatimes will become a great way to catch up with mates. Home to a large and lively student community, these residences come with en-suite rooms, a 25-station gym, a licensed bar and a rooftop café. More info about The Lawns.
Meals:
Most houses have a shared dining room and kitchen, equipped with various cooking utensils. Inexpensive meals are also available at the cafeterias on campus. Hull also offers traditional residence halls for full-degree students and those staying for at least one year.
Summer School
Hull is delighted to invite UNI students to experience the rich and authentic English
culture found in our city, Kingston-upon-Hull, located in the heart of East Yorkshire. Whether it's enjoying traditional afternoon tea at Hull's famous Royal Hotel, or joining organized trips to historic locations such as York, Beverley and Castle Howard, our programme is designed to immerse students into our country's vibrant culture and heritage.
This brand brand new Summer Program "Discover England: Culture, Business and Politics" is offered August 6th – August 24th.
Program Costs
England: University of Hull
Estimated Program Cost:
$12,632*
* estimated total cost of participation, actual amount depends on type of housing accommodation selected, actual airfare purchase price, personal spending habits, and other factors
Cost of studying on-campus*
*per semester, estimated, will vary per person
Tuition & Fees:

$4,350

Room & Board:

$4,390

Books:

$450

Personal Expenses:

$825

Transportation:

$200

---

Total:

$10,216
Dates & Deadlines
Program Dates:
Tuesday, September 17, 2019

to

Monday, June 1, 2020
Program Dates:
Tuesday, January 28, 2020

to

Monday, June 1, 2020
Program Dates:
Tuesday, August 6, 2019

to

Saturday, August 24, 2019
The Study Abroad Center reserves the right to determine participants' eligibility to Study Abroad. Students must meet all of the following in order to be eligible to Study Abroad:
Have a cumulative 2.5 GPA or higher at the time of application and maintain this cumulative GPA prior to departure and throughout the study abroad process

If your cumulative GPA is lower than 2.5, submit the following to the Study Abroad Center (103 East Bartlett):
Letters of reference from two academic contacts (e.g. academic advisor and former or current professor) supporting your pursuit of study abroad. If you are attending a faculty-led study abroad program, one of the letters must be from a course leader. However, if the program has two course leaders, only one of the letters can be from one of the course leaders.

Must be over the age of 18 years old
Must meet the course prerequisites (participation in the program is dependent upon meeting these)
Must be in good standing with the University
UNI's partner institutions may require additional eligibility requirements to be met, these vary from institution to institution. Please consult with the Study Abroad Center staff to discuss these additional requirements if applicable.
Applicants traveling to a region of a country or a country with an overall Travel Advisory Level 3 (Reconsider Travel) or 4 (Do Not Travel) will not be eligible.
All study abroad applicants must pass the Study Abroad Applicant Assessment with a score of 70% or greater.
Applicants may be selected for an in-person interview before being accepted. Selection for an interview does not guarantee acceptance into the program. You will be contacted directly by the Study Abroad Center if selected for an interview.