Introduction
The Universidad de Jaén (UJA) is located in the south of Spain in the Andalusia region of Spain in the city of Jaén. The city has a lot for students to enjoy from historical sites, parks, shopping, and restaurants. The University offers courses in English so students do not need to know Spanish to study at UJA.
Location
Jaén is the capital of the province of Jaén and is located in the autonomous community of Andalusia. It has a population of 117,500, which will provide students a smaller city feel. Jaén is in the heart of southern Spain, so traveling to other cities is very easy and convenient. In the last years, Jaén has had a great increase of cultural tourism, due to its idyllic location in respect to monuments such as the Alhambra. Jaén is also known as the World Capital of Olive Oil, because it is the largest producer of this liquid gold in all of Spain. The urbanism of this city is determined by its adjustment to the hills of the Santa Catalina mountain range, with steep, narrow streets, in the historical central city district.
Academics
The Universidad de Jaén is a medium-sized, public university with about 14,500 students and over 800 faculty members. Established in 1993 at Campus Las Lagunillas, the Universidad de Jaén has more than 30 departments related to almost any university field of knowledge: business administration, anthropology, geography, history, chemistry, etc.

The Universidad de Jaén welcomes international students as part of a conscious effort to increase its international profile, which is of utmost importance, an institution that is constantly striving to widen both its knowledge and its horizons. No doubt, and thanks to an outstanding undergraduate and postgraduate international incoming and outgoing students population (which amount to approximately 650 students during the academic year), the Universidad de Jaén is becoming one of the leading exchange universities in the south of Spain.

The University is also part of the Erasmus Student Network (ESN). This organization operates as a support group to all International Students. It provides a forum for the students to meet and get to know one another better. It also provides trips to nearby cities including Malaga, Seville, Granada, and Cordoba.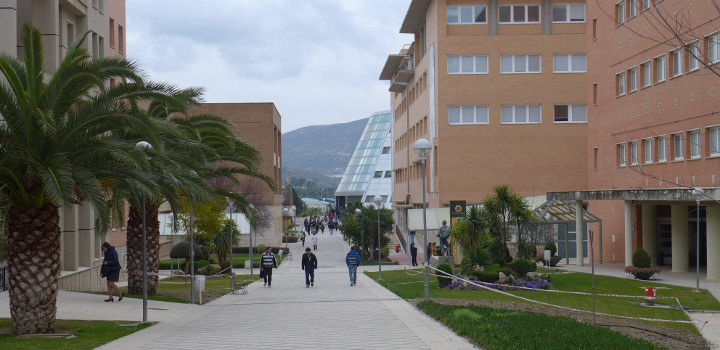 Students gain a great deal about Spanish culture by experiencing day-to-day life in Spain with a conversation partner. UJA's buddy program will pair UNI students with a local UJA student to assist them during their first few days in-country.

Courses in English: Students usually find their spoken Spanish vastly improves over the course of their program, as they interact daily with native speakers and gain confidence in their ability to communicate in Spanish. However, there are many courses taught in English. There are three levels of courses in English, called PATIE courses. With the variety of levels, it is still recommended that students have an interest in gaining Spanish competency or have taken Spanish language, as not all courses are in "Level 3".
Level 1: Tutorial support sessions, materials, and exams in English
Level 2: Tutorial support sessions, materials, exams and seminars in English
Level 3: Tutorial support sessions, materials, exams, seminars and regular lectures in English
NOTE: SAC recommends UNI students study abroad in the spring semester or academic year only at the UJA as fall semester runs into January, and UJA will need to be contacted early on if students want to do Fall due to late examinations.
Spanish Language Courses: The University also offers Intensive Spanish language courses before each semester (intensive courses) and during the semester (extensive courses) for an additional fee. Intensive courses are typically offered in early January or May/June. Extensive courses are typically from September-December and January-May. Students will complete a placement test upon arrival to determine which level of Spanish language they place into (beginning, intermediate, or advanced.)

Teaching Practice Program: UNI students have the opportunity to assist as Conversation Assistants in UJA's Center for Advanced Studies in Modern Languages (CEALM). UNI students will help international and Spanish students with learning English through activities for a total of 60 class hours. Students who successfully and fully participate in the volunteer experience will receive a monthly stipend.
Academic Calendar: Jaen's Fall semester is from September to December with exams in January. If a student wants to do the Fall semester, they will need to work with their study abroad advisor early to make sure they can take exams early. This is not guaranteed. The Spring semester is from late January to May-June. To view the academic calendar, please see here.
Credits and Grades: Jaén uses the ECTS credits. Courses vary in number of credits. A 6 ECTS credit course is a 3 US credit course. Grades are also given differently at Jaén. Make sure you meet with your study abroad advisor to make sure you understand how grades will be transferred in at UNI. 
Immigration Information
Information on the visa process for Spain can be found in the Spain Visa Guide PDF. 
Participant Info
Immigration Information
Information on the visa process for Spain can be found in the Spain Visa Guide PDF. 
Housing & Meals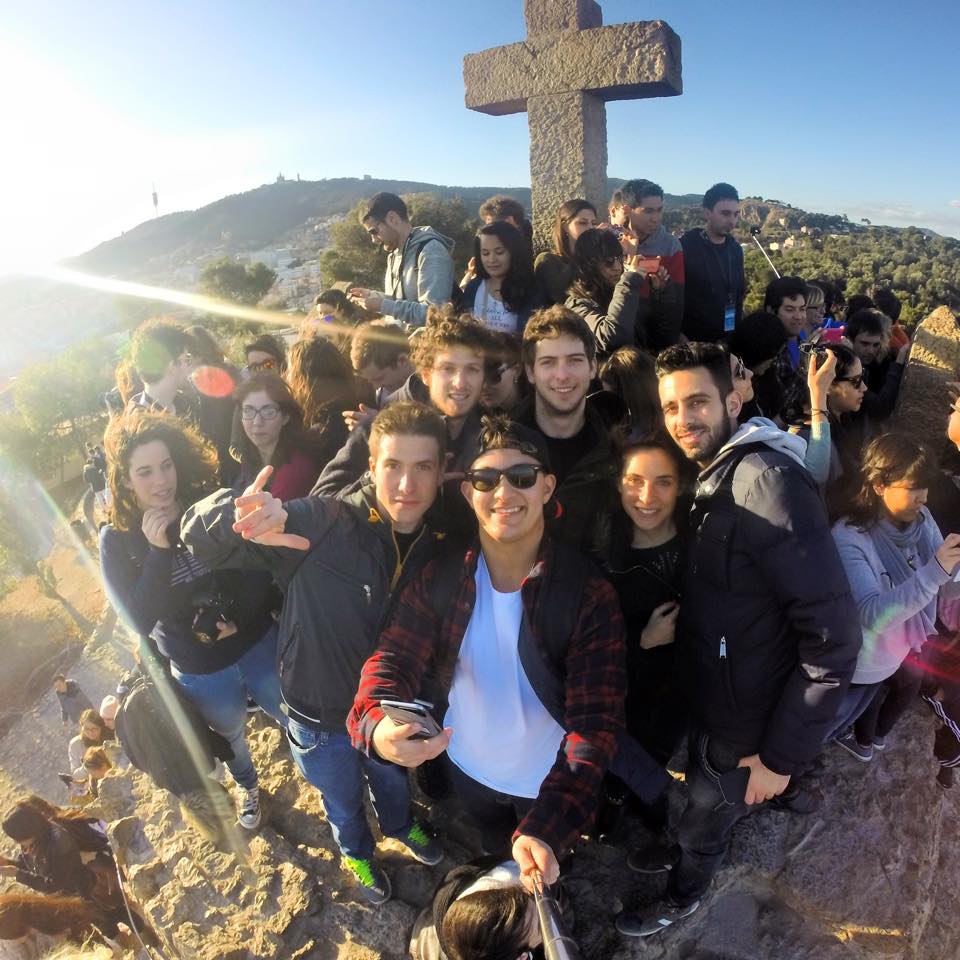 The UJA has a variety of housing options. Students are responsible for securing their own housing (two options below). There are many places online for students to see the different housing options. Meeting with a study abroad advisor, students can learn more about these options. If students do not want to book housing prior to departure, some UNI students have stayed at Albergue & SPA Inturjoven Jaen hostel for a few days and located a long-term apartment with other exchange students for the semester.
Housing in flats/apartments: Price ranges between 150-250 euros per person/month (furniture is included in the price; meals, utilities, and cleaning not included).

University student halls of residence at Residence Domingo Savio (full board, cleaning included)
The UJA provides each International Student with a Buddy that can help them find a residence upon request, as well as get acclimated to the layout of the city.
Program Costs
Spain: University of Jaén
Estimated Program Cost:
$11,432*
* estimated total cost of participation, actual amount depends on type of housing accommodation selected, actual airfare purchase price, personal spending habits, and other factors
Cost of studying on-campus*
*per semester, estimated, will vary per person
Tuition & Fees:

$4,350

Room & Board:

$4,390

Books:

$450

Personal Expenses:

$825

Transportation:

$200

---

Total:

$10,216
Dates & Deadlines
Program Dates:
Monday, September 2, 2019

to

Friday, December 20, 2019
Program Dates:
Monday, January 20, 2020

to

Friday, June 5, 2020
The Study Abroad Center reserves the right to determine participants' eligibility to Study Abroad. Students must meet all of the following in order to be eligible to Study Abroad:
Have a cumulative 2.5 GPA or higher at the time of application and maintain this cumulative GPA prior to departure and throughout the study abroad process

If your cumulative GPA is lower than 2.5, submit the following to the Study Abroad Center (103 East Bartlett):
Letters of reference from two academic contacts (e.g. academic advisor and former or current professor) supporting your pursuit of study abroad. If you are attending a faculty-led study abroad program, one of the letters must be from a course leader. However, if the program has two course leaders, only one of the letters can be from one of the course leaders.

Must be over the age of 18 years old
Must meet the course prerequisites (participation in the program is dependent upon meeting these)
Must be in good standing with the University
UNI's partner institutions may require additional eligibility requirements to be met, these vary from institution to institution. Please consult with the Study Abroad Center staff to discuss these additional requirements if applicable.
Applicants traveling to a region of a country or a country with an overall Travel Advisory Level 3 (Reconsider Travel) or 4 (Do Not Travel) will not be eligible.
All study abroad applicants must pass the Study Abroad Applicant Assessment with a score of 70% or greater.
Applicants may be selected for an in-person interview before being accepted. Selection for an interview does not guarantee acceptance into the program. You will be contacted directly by the Study Abroad Center if selected for an interview.