Introduction
Ranked 1st for 'Campus Environment' by International Student Barometer, the University of Stirling offers amazing support for international students. One in five Stirling residents is a student, therefore creating a friendly, buzzing and youthful city that rests in the heart of Scotland. At Stirling, you can study beneath rolling hills on the shores of a loch by an 18th century castle.
Location
The University of Stirling is located in the historic city of Stirling, Scotland. Stirling is the perfect size city to study abroad in with a population of around 90,000 people--students being a large portion of that. With a full 'city experience' of shopping, café culture, performing arts, history, and nightlife, Stirling offers all the characteristics of a big city feel yet it is upheld by a welcoming, friendly community.
Stirling is located in central Scotland. Situated between the Lowland and the Highlands, many consider it to be the "Heart of Scotland".
Academics
The University has over 250 courses across 25 different departments. UNI students may pick from the following programs/majors:
Accounting & Finance 
Management
Economics 
Marketing
Law
Aquatic Sciences
Biological Sciences
Environmental Science
Social Sciences
Languages
Journalism Studies
Religious Studies
Education
Computing Science
Nursing
Sports Sciences
Credit Equivalencies/Grade Conversion:
Credits:
Uses ECTS credits
20 credits = 5 UNI credits
11 credits = 2.5
10 credits = 2.3
Grades: 
1A, 1B, 1C Excellent = A
2A, 2B, 2C Very Good = B
2D, 2E, 2F Good = C
3A, 3B, 3C Satisfactory/Pass = C-
4A, 4B, 4C Marginal Fail = D
5A, 5B, 5C Clear Fail = F
See grading scale sheets that follows also.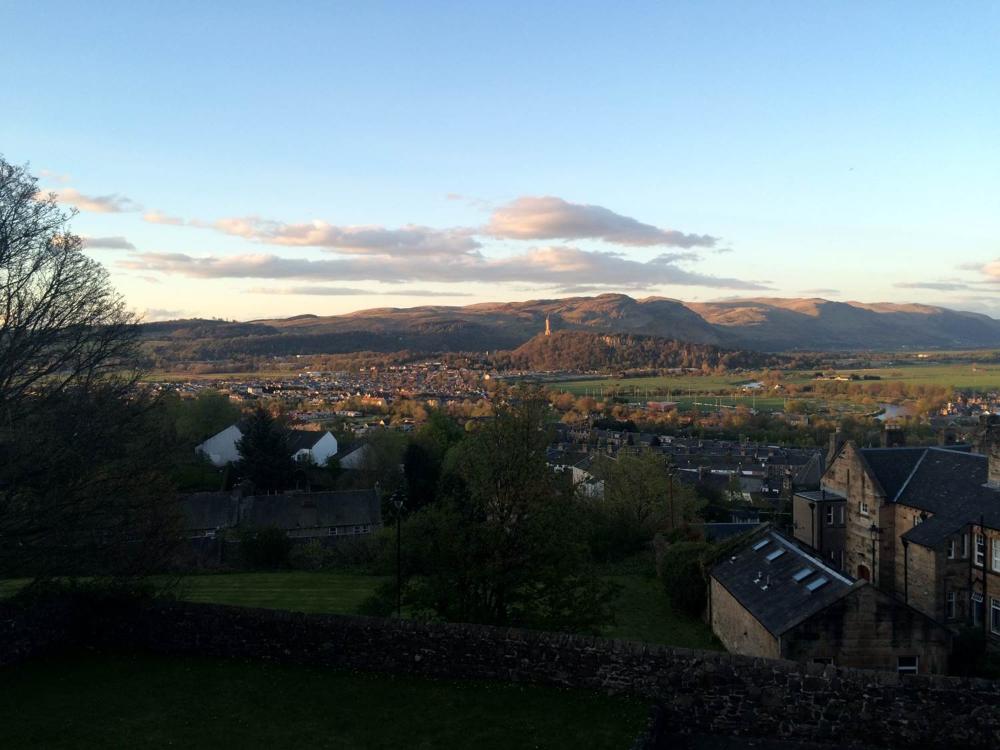 Participant Info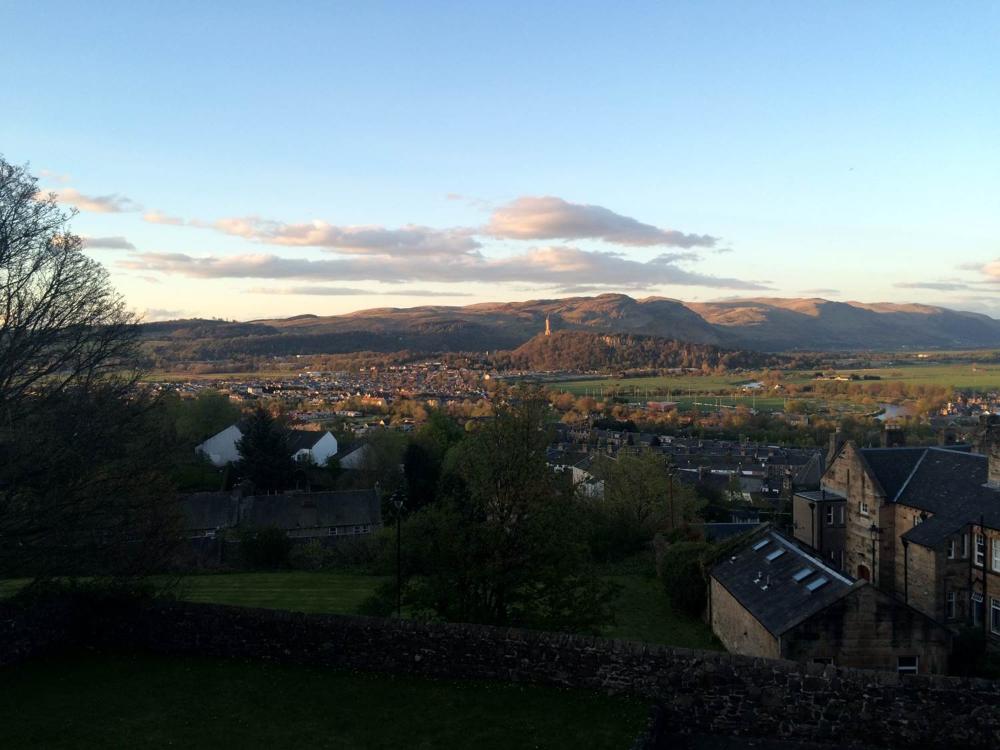 Housing & Meals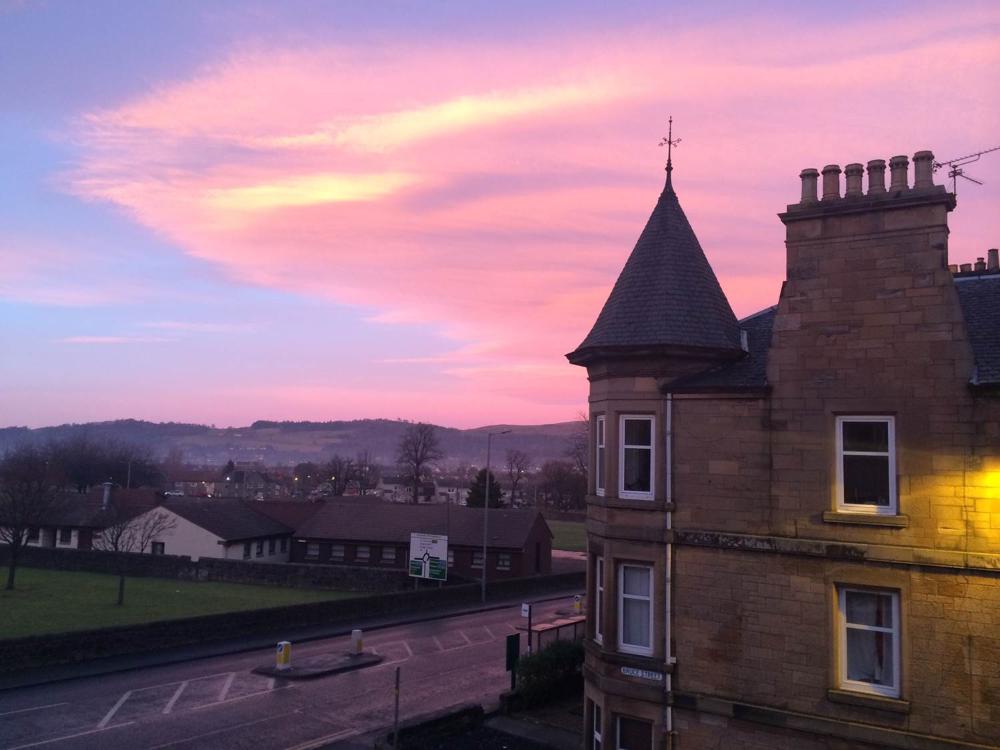 Housing:
Stirling guarantees accommodation for all UNI students. The campus has a variety of flats and chalets which generally house second, third, and fourth year students. Many of the residences overlook the loch, and all are just a few minutes walk from all main facilities. Rooms are almost all single occupancy.
Meals:

On-campus facilities available:
Mini supermarket
Cafes & restaurants
Pharmacy
Chaplaincy
Bookstore
Fitness facility (indoor and outdoor)
Outside groceries may be shipped to campus for less than 10 euros
Summer School
Every year, the University of Stirling welcomes students from all over the world to take part in our International Summer School (ISS). Our dynamic programme shows you what life at University is really like, and gives you a thrilling taste of one of the globe's most vibrant and inspiring countries. More info here. 
Arrival: Upon arrival you will be picked up from the designated airports and brought to your on-campus housing. Your time at Stirling will begin with a Welcome Reception with your fellow students, overlooking the University's picturesque loch. A full orientation program will be offered to new students at the start of each block which includes a campus tour, bus tour of Stirling and surrounding area, as well as an IT and library induction. Social activities and social trips are an important part of the program.

Academics: A key feature of the Stirling ISS is the out-of-class study which will be an integral part of each course module. The content will vary depending on the subject studied but options include visits to the Scottish Parliament, Europe's largest on-shore wind farm, football stadiums such as Ibrox and Celtic Park, the site of the Battle of Killiecrankie and readings at the MacRobert theater, cinema and café bar on campus. Day trips to St Andrews, Glasgow and Edinburgh are included in your course fee. There may also be the opportunity to visit other Scottish treasures such as Loch Ness, the Highlands and the Isle of Skye at discounted rates. Each block will end with an evening including a 'ceilidh', which will allow you to learn (or practice) Scottish country dancing.

Credits: Each Stirling module earns 10 Stirling credits, which is equal to 2.5 US credits.

Housing:You will be housed alongside other ISS students in shared apartments on campus. Muirhead House's rooms are all single study bedrooms with up to five individuals sharing kitchen and bathroom facilities. Your apartment's kitchen is fully equipped so you can choose to self-cater with friends or easily eat out on campus.

The teaching buildings and social center (housing the cafés, eateries and bars) are only five minutes' walk away. Bedding and cooking utensils are provided in all apartments. Internet access is available free of charge in your room 24 hours a day in the nearby computing labs or via WiFi hotspots around the campus. Accommodation costs are included in the fee, however you pay for your food.

On-campus facilities available:
Mini supermarket
Cafes & restaurants
Pharmacy
Chaplaincy
Bookstore
Fitness facility (indoor and outdoor)
Outside groceries may be shipped to campus for less than 10 euros
Program Costs
Scotland: University of Stirling
Estimated Program Cost:
$12,979*
* estimated total cost of participation, actual amount depends on type of housing accommodation selected, actual airfare purchase price, personal spending habits, and other factors
Cost of studying on-campus*
*per semester, estimated, will vary per person
Tuition & Fees:

$4,350

Room & Board:

$4,390

Books:

$450

Personal Expenses:

$825

Transportation:

$200

---

Total:

$10,216
Dates & Deadlines
App Deadline:
Thursday, October 1, 2020
Program Dates:
Monday, January 18, 2021

to

Friday, May 28, 2021
The Study Abroad Center reserves the right to determine participants' eligibility to Study Abroad. Students must meet all of the following in order to be eligible to Study Abroad:
Have a cumulative 2.5 GPA or higher at the time of application and maintain this cumulative GPA prior to departure and throughout the study abroad process

If your cumulative GPA is lower than 2.5, submit the following to the Study Abroad Center (103 East Bartlett):
Letters of reference from two academic contacts (e.g. academic advisor and former or current professor) supporting your pursuit of study abroad. If you are attending a faculty-led study abroad program, one of the letters must be from a course leader. However, if the program has two course leaders, only one of the letters can be from one of the course leaders.

Must be over the age of 18 years old
Must meet the course prerequisites (participation in the program is dependent upon meeting these)
Must be in good standing with the University
UNI's partner institutions may require additional eligibility requirements to be met, these vary from institution to institution. Please consult with the Study Abroad Center staff to discuss these additional requirements if applicable.
Applicants traveling to a region of a country or a country with an overall Travel Advisory Level 3 (Reconsider Travel) or 4 (Do Not Travel) will not be eligible.
All study abroad applicants must pass the Study Abroad Applicant Assessment with a score of 70% or greater.
Applicants may be selected for an in-person interview before being accepted. Selection for an interview does not guarantee acceptance into the program. You will be contacted directly by the Study Abroad Center if selected for an interview.