Students First Since 1876
As one of Iowa's three public universities, UNI is known for designing robust and practical learning experiences — the kind that gives our students the career edge they need in fields like education and business. But most importantly, we're passionate about our students.
With over 90 degree programs and a community of supportive faculty, we're here to help you chase your dreams. With a vibrant campus community, and endless opportunities to explore, we promise to keep things interesting along the way.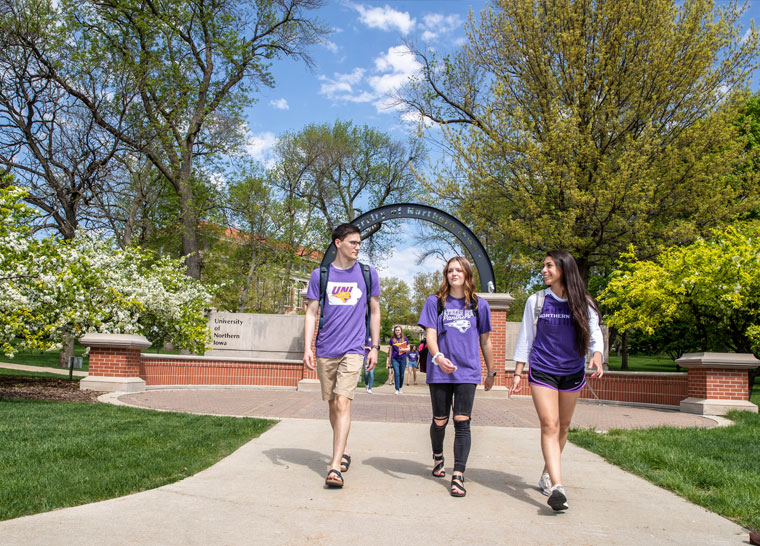 Teachers
Start Here
Join a legacy in teaching. With a rich history in teacher preparation and a reputation for excellence, it's no surprise that UNI graduates more educators than any other university in the state.

Best in The
Midwest
The University of Northern Iowa is ranked second in the "Top Public Schools Regional University (Midwest)" category, according to U.S. News & World Report.

98% Career
Placement
Connecting our students with their dream jobs is what we do. Need proof? It's in the numbers. Ninety-eight percent of our students are employed in their area of study within one year of graduation.
Initially founded as a teacher education school, we understand the needs of students. Education is at our core. With a history of service-learning and hands-on training, our rich past helps our students find success today.
Academics at UNI
160+ Majors and Minors
Discover your career, and your calling. With more than 160 majors and minors to choose from, we'll help you find what drives you – so you can focus on changing the world.
250+ Student Organizations
Competitive video gaming? Political activism? Film appreciation? Whatever you're into, we've got a club for that.
17 Division I Collegiate Teams
Whether you're a student-athlete or sports fanatic, you'll find that Panther pride runs deep in the Cedar Valley. With 17 Division I sports teams, there's always a game, meet or match just around the corner.
UNI is facing challenges that are not unique in higher education but our commitment to students and their success has and will remain our top priority. Stay up-to-date on how we plan to grow in the coming years while staying true to our core values.