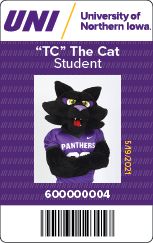 University identification cards (ID Cards) are issued to students, faculty, staff and emeritus. The ID Cards are widely used across campus for identification and validating privilege use at the dining centers, library, athletic and performance events, the Wellness Recreation Center and for electronic access doors.
Initial ID Cards are given at no cost. The cost for a replacement card is $30.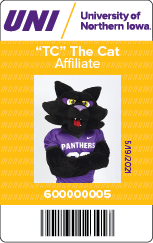 An Affiliate Card will be issued to those on campus needing access to a building/service. An example would be a UNI employee's spouse who is eligible to use the Wellness Recreation Center.
There is a $30 fee for both the initial and replacement Affiliate Card.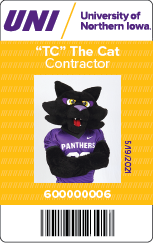 Contractor Cards will be issued to those that have been hired by the University to do work and need to access buildings with electronic access. This would include, but is not limited to, construction contractors for building, electrical, plumbing, vendors and others hired to perform a service.
There is no cost for a Contractor Card.
Replacing Lost UNI ID Card
For your protection, lost cards should be reported immediately to the university. You will be held responsible for any purchases made with your card until the card is reported lost or stolen.  Report lost or stolen cards online by clicking on the Life @ UNI tab in MyUNIverse and then using the link under Report My ID Card lost.
Print the voucher that displays after reporting your card lost. You will need the printed voucher along with a driver's license or another form of identification to access the dining centers. For your protection, lost card vouchers may not be used for credit purchases.
If you find your card, you may get it reactivated in the Housing & Dining office Monday through Friday, 8:00am - 4:30pm. If you do not find your card, you will need to purchase a new one for $30. (Cannot accept credit/debit card payment.) You will need a photo ID to obtain a new card.
Replacement cards are available at the Housing & Dining office in Redeker Center. A new photo will be taken.
Rules governing ID card use.
The ID card issued to you is the property of the University of Northern Iowa (UNI).

UNI is not responsible for any losses sustained by card holder.

If your ID card is lost you must deactivate your card in MyUNIverse.

ID Cards are not transferrable.

Lending ID Cards to others is prohibited.

Punching a hole in the ID Card may cause damage.

A fee may be charged to replace a lost or damaged card.

At the end of employment, the employee must turn in the ID Card to their supervisor who will destroy the card.

University departments, personnel, or community businesses may not ask to retain your ID Card as collateral for goods or services. Report any such occurrences to the Housing & Dining office in Redeker Center; 319-273-2333.
Using your UNI ID card at UNI allows access to the following benefits:
Provides identification around campus

Access your meal plan, Dining Dollars or charge at dining centers and retail stores campus

Opens electronic access doors

Check out books and pay for copies at Rod Library

Access the Wellness & Recreation Center

Enter athletic and performance events

Utilize employee time clocks
Student ID Card purchases will appear on their U-bill. Staff must complete the online agreement to allow purchases on their ID Card to be payroll deducted.