Introduction

San Jose, the sprawling capital of Costa Rica, offers a wide variety of activities. Emerge yourself in the local culture by spending a day exploring one of the numerous museums or markets found downtown. Shopping malls, restaurants, public parks, casinos, and night clubs also provide in-city entertainment.

Outside of the city, discover your adventurous side. Use Costa Rica's expansive, accessible bus system to explore the country's vast forests and both coasts. National parks offer access to hiking trails, waterfalls, volcanoes, and untouched beaches. Activities like snorkeling, white water rafting, and zip lining can be found throughout the country.
 
Location
The University of Veritas is located in the Zapote district of Costa Rica's capital city, San Jose. Home to just over 330,000 people San Jose is the largest city in Costa Rica. Over a million additional people commute to the city daily.
San Jose offers a wide variety of entertainment and cuisine. The down town is home to different markets, museums, bakeries, plazas, and shops. The neighborhoods surrounding the school are eclectic and colorful.   
Downtown San Jose is a 30-minute walk or 10-minute bus ride away from the school. Bus travel from San Jose is fairly easy. The Pacific coast can be reached in as few as 2 hours and the Atlantic in 5.
The spring semester falls during San Jose's dry season when the average temperature stays around 85 degrees with virtually no humidity.
Academics

Veritas was one of the first private colleges founded in Costa Rica. Local students study art, design, and architecture. The university is fairly small, hosting approximately 1,800 Costa Rican students and 320 international students. 

At Veritas, energetic and passionate staff members offer extracurricular activities like cooking and dance lessons, conversation club, yoga classes, and events such as talent shows, welcome parties, and group outings.

Veritas offers a shuttle system to and from the university for students with evening classes and activities, and there is also a line of taxis on the corner of the university always ready for students.
Courses: Veritas offers a unique and customized academic program. While most students interested are in improving their Spanish language skills, Veritas also offers many English taught courses that students can take in a variety of fields. Students may take intensive language courses with little to no Spanish proficiency. Courses are divided into six areas:
Intensive Language Courses range from basic to advanced. Each course transfers back as 5 credit hours.
Spanish electives require an advanced level of proficiency. Classes focus on literature and linguistics. Each course transfers back as 3 credit hours.
Integrated Studies in Spanish with Costa Rican students in the Art, Design, and Architecture Departments are available to students with an advanced level of Spanish. Credit amounts, ranging from 2-4 hours, vary depending on the class.
English Taught Courses are offered in art, business, economic, communication, science, history, politics, theology, and health. 
Short Term Programs in different fields, such as health or law enforcement.
Internship Opportunities on an individual basis
Students are placed into Spanish courses based on a written placement test and Skype interview with a Veritas faculty member. Students taking intensive Spanish take one course per month, meeting five days per week from 8 am to 12 pm. After each month and passing the class, students are able to progress to the next level of Spanish.

English taught courses meet for 3 months, generally twice per week, and usually include field trips related to the course content. English-taught electives are held in the afternoon and early evening hours.
Academic Calendar: Veritas offers a Fall term from October to December. For students who want to study Spanish as well or solely study Spanish, they can go even early in August or September and stay through December. For the Spring Semester, they offer two terms - one from January to March and one from April to June. Students can do one or the other or both. They also offer a variety of summer options. It is best to view their calendar to understand the structure of the classes. To view the academic calendar, please see here. 
Credits and Grades:  Grades are the same as in the US. Courses are generally 4 credits.  
Participant Info
Important information to review:
Review the roles of the Advisee and the Advisor under the main menu Get Started
Entry and Exit Requirements:
Review and follow the travel recommendations of the CDC for Costa Rica
Monitor appropriate websites for updates and information about COVID or other emergencies before departing and while in the destination country. The U.S. Embassy for Costa Rica provides updates that can be found on their website
Travel
Looking for some adventure while abroad? You've picked the right country! In Costa Rica, bountiful opportunities await you! From crystal clear waters to the ever so thriving rain and cloud forests, you are bound to make memories that will last a lifetime! Right near campus, there is a tour agency called Tico Viajero that offers many affordable trips around Costa Rica in addition to Nicaragua and Panama. Many students that study abroad at Veritas take advantage of the great prices and get to know other study abroad students.
Another option for traveling around the country is to make use of the resources found right on campus at Veritas. Veritas offers their own selection of excursions and tours that can be found at the following site: https://studyabroad.veritas.cr/excursions-logistics/
Housing & Meals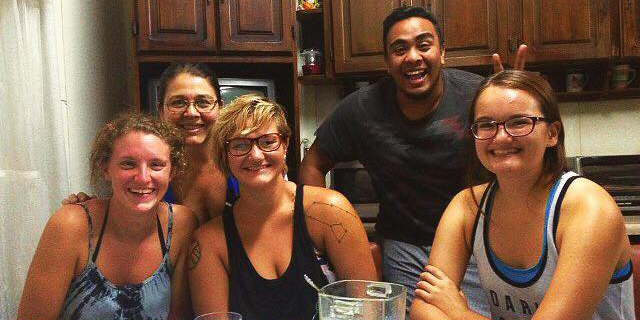 Veritas typically coordinates host families for UNI students, located within walking distance of the university. Many students consider host families the best part of the program. The Tico (Costa Rican) families go through a selection and evaluation process with CPI Veritas staff to ensure their home meets standards and needs of US students. Host families are required to speak Spanish to students to help improve language skills. Most families, however, do speak some English. Homestays include two meals per day, laundry once per week, Wi-Fi, and a private bedroom.

Students are in charge of lunch. A number of little restaurants, called sodas, are within walking distance of the school. The university also has two different cafeterias and cafes serving meals, snacks, drinks, salads, and desserts. On average, lunches can be bought for around $5 per meal. Most host families provide refrigerator and cabinet space for students if they want to buy food to make their own lunches.
We recommend that students arrive for their program one day before their classes start (traditionally Sunday) and depart one day after their classes end (traditionally Saturday). Veritas has a big pool of host families, but they also receive hundreds of students from around the world, therefore they prefer that students stay with host families primarily during the time of their academic program.
Summer School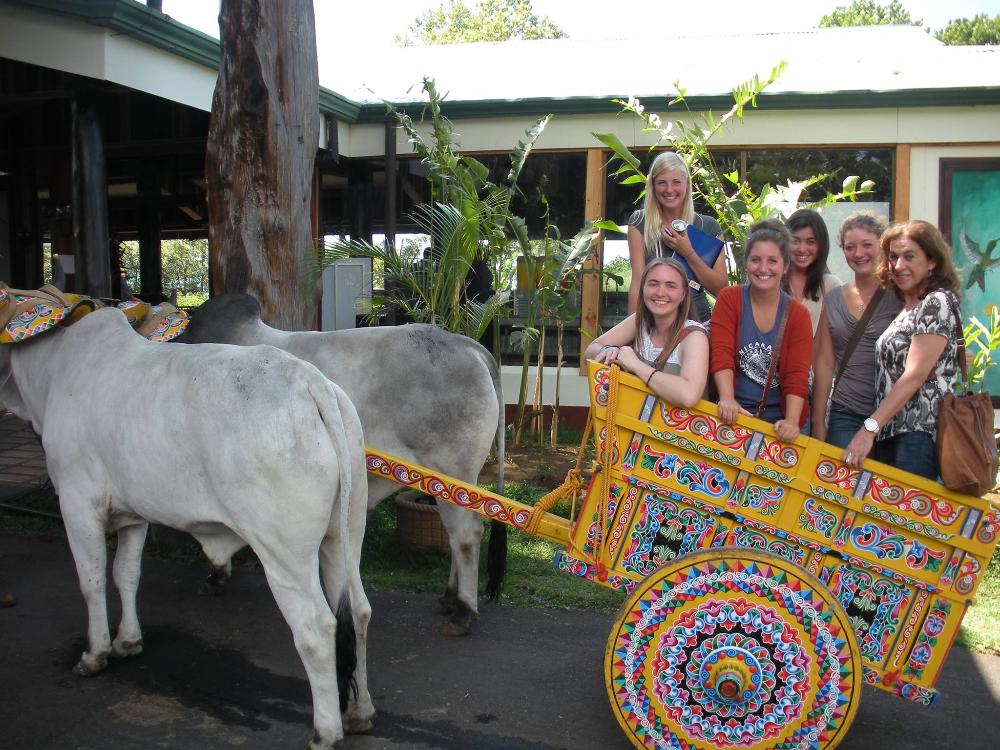 Veritas University offers a few types of programs for the summer.
Summer Sessions 1 and 2

A 5 week program where students can take English and Spanish electives
Session 1: Late May-End of June
Session 2: Early July-Early August

Monthly programs

Four week programs where students take intensive Spanish language courses
Available May, June, and July

Field Courses

Three week programs taught in English focused on building immersive hands-on experiences
Course topics include biology and environmental sciences, sustainable studies, business and economics, and arts and humanities 
Program Costs
Costa Rica: Universidad Veritas
Estimated Program Cost:
$12,355*
* estimated total cost of participation, actual amount depends on type of housing accommodation selected, actual airfare purchase price, personal spending habits, and other factors
Cost of studying on-campus*
*per semester, estimated, will vary per person
Tuition & Fees:

$4,527

Room & Board:

$4,580

Books:

$400

Personal Expenses:

$878

Transportation:

$320

---

Total:

$10,705
Dates & Deadlines
Program Dates:
Thursday, September 8, 2022

to

Thursday, December 22, 2022
Program Dates:
Tuesday, May 24, 2022

to

Saturday, June 25, 2022
Program Dates:
Tuesday, July 5, 2022

to

Friday, August 5, 2022
Eligibility Requirements to Study Abroad
The Study Abroad Center reserves the right to determine participants' eligibility to Study Abroad. Students must have a completed study abroad application, including supportive recommendation form(s). Additionally, students must meet all of the following in order to be eligible to Study Abroad:
Have a cumulative 2.5 GPA or higher at the time of application and maintain this cumulative GPA prior to departure and throughout the study abroad process
If your cumulative GPA is lower than 2.5, submit the following to the Study Abroad Center (103 East Bartlett):
Letters of reference from two academic contacts (e.g. academic advisor and former or current professor) supporting your pursuit of study abroad. If you are attending a faculty-led study abroad program, one of the letters must be from a course leader. However, if the program has two course leaders, only one of the letters can be from one of the course leaders.
Must be over the age of 18 years old
Must meet the course prerequisites (participation in the program is dependent upon meeting these)
Must be in good standing with the University
UNI's partner institutions may require additional eligibility requirements to be met, these vary from institution to institution. Please consult with the Study Abroad Center staff to discuss these additional requirements, if applicable.
Applicants traveling to a region of a country or a country with an overall Travel Advisory Level 3 (Reconsider Travel) or 4 (Do Not Travel) will not be eligible.
All study abroad applicants must pass the Study Abroad Applicant Assessment with a score of 70% or greater.
Applicants may be selected for an in-person interview before being accepted. Selection for an interview does not guarantee acceptance into the program. You will be contacted directly by the Study Abroad Center if selected for an interview.