Introduction
Florence - A city that challenges the concepts of past, present, and future. Its location allows students access to every region of Italy very easily. The benefits of studying abroad at FUA begin with the flexibility of the institution's academic sessions which are offered throughout the year. They offer studies in a diverse area of academic disciplines which feature experiential components such as educational field trips, getting involved in local culture through community service, as well as extracurricular activities. 
Location
The city of Florence is an excellent compass for navigating Italian culture while Florence today, with its unique characteristics coupled with a primary position in international and Italian tourism, economy, and culture, is an intriguing example of how past, present, and future blend together in a stimulating European context. Its central position makes it a unique portal; it is located an hour from Bologna, an hour and a half from Rome, and 2 hours from Milan by train.
Florence is a city that is easy to walk from one place to another. You could easily walk from one side to another of the city center in 20-30 minutes. There are many cafes, restaurants, and shops spread throughout the city center. Many students get to walk past notable historical sites like the Duomo on their way from housing to classes. 
Notable Area Sites:
Mercato Centrale (Central Market)
Florence Cathedral
Palazzo della Signoria (the Old Palace)
Mueseo di Storia Naturale di Firenze (Natural History Museum of Florence)
Piazza della Repubblica (City center square)
Santa Croce and Santa Maria Novella basilicas
Academics
FUA's name bears the core of their educational philosophy: a group of prestigious, meticulously renovated historic buildings, that have witnessed the life of Florence throughout centuries to strive to bring innovation to the present. Florence University of the Arts (FUA) is accredited by the Region of Tuscany, delegated by the Ministry of Education, consisting of nine schools.
The Student Life and Development department (SLD) strives to bridge the cultural gap between our students and the Florentine locals by offering engaging activities to compliment FUA academic sessions. Student Life staff aims to assist students as they acclimate to their surroundings by providing educational field trips, housing coordination, health and safety assistance, and FAQs. From the time of pre-departure through to program completion, the Student Life and Development Department acts as a source of guidance and support for FUA students.
Courses: FUA offers a wide variety of courses all offered in English for students to chose from.  Florence University of the Arts (FUA) offers many academic areas for students to chose from. The most prominent fields of study are: 
Publishing, Digital Media, Visual Communication
International Hotel and Tourism Management, Culinary Arts & Food Service Management
Humanities and Fine Arts
Business and Economics
Italian language and Contemporary Italian Studies
Social Sciences
Course descriptions and offerings for each course can be found in FUA's Academic Catalog. These courses are not guaranteed to be offered each semester or session. Courses available for each session can be found in FUA's Academic Schedule. The right-hand side will list "open" or "closed".
Internships and Experiential Learning Special Projects: FUA offers these options for students to gain hands on experiences related to their fields of study. These options are offered on a for-credit and not-for-credit basis. Internships are experiences where students actively assist professionals in fulfilling daily tasks and chores in external placements. The students do not receive academic instruction but learn by performing tasks and span generally across the semester for 6 credits. Experiential Learning Special Projects consist of student learning by doing and observing the assigned tasks while also receiving academic instruction in the CEMI. These are generally shorter experiences and are offered usually for 3 credits. 
Students register for courses at the time of completing the application for the university itself. Students pick about 4 to 5 courses they want to take and also list an alternative for each course (note, alternatives are required). Final schedules should have a minimum of 12 credits during fall or spring semester. The program cost lists prices for 15 credit hours, any additional credits will be charged directly to the student.
College of Business Bundle: For College of Business students, there is a pre-approved bundle package. View the bundle package for more details. For the Business Administration emphasis, every course counts toward the 4 required electives, so a BA Emphasis student can complete an entire sequence of electives in one semester at FUA. That will give a clear practical edge in sports, fashion or restaurant management. In addition, you can get an FUA certificate in sports, fashion or restaurant management. 
6 credit hour experiential courses count as internships -- for marketing majors, international business minors, etc.  
Teaching Methods and Styles: Courses at FUA are offered similarly to in the US with regard to credit, lecture, and assessment, however, FUA tends to be a more hands on and experiential school. Students may have experiential learning as part of their course. It is important for students to read the syllabus of each course thoroughly prior to registering. They can meet with their study abroad advisor to get the full detailed syllabus. 
Academic Calendar: FUA offers very customizable sessions for students to take part in while in Italy. Their Fall semester is generally from late August to December and their Spring semester is from January to May. They offer 3, 4, 6, 9, and 12 week summer sessions as well. Students can combine these in any way they like. To view the academic calendar, please see here.
Credits and Grades: Credits and the grading scale at FUA is the same as in the US. 
Participant Info
Important information to review:
Review the roles of the Advisee and the Advisor under the main menu Get Started
Entry and Exit Requirements 
Review and follow the travel recommendations of the CDC for Italy
Monitor appropriate websites for updates and information about COVID or other emergencies before departing and while in the destination country. The U.S. Embassy for Italy provides updates that can be found on their website
Immigration Information
Students going to FUA for the Spring, Fall, or academic year will need a student visa. This application process requires a trip to the nearest Italian Consulate (in Chicago). As soon as possible, make sure you apply for or renew your passport. Once you are accepted, you will work with your advisor to learn how to apply for the visa. 
Students studying for the summer term should be in Italy for less than 90 days and will therefore not need a visa.
Information on the visa process for Italy can be found in the Italy Visa Guide PDF. 
Housing & Meals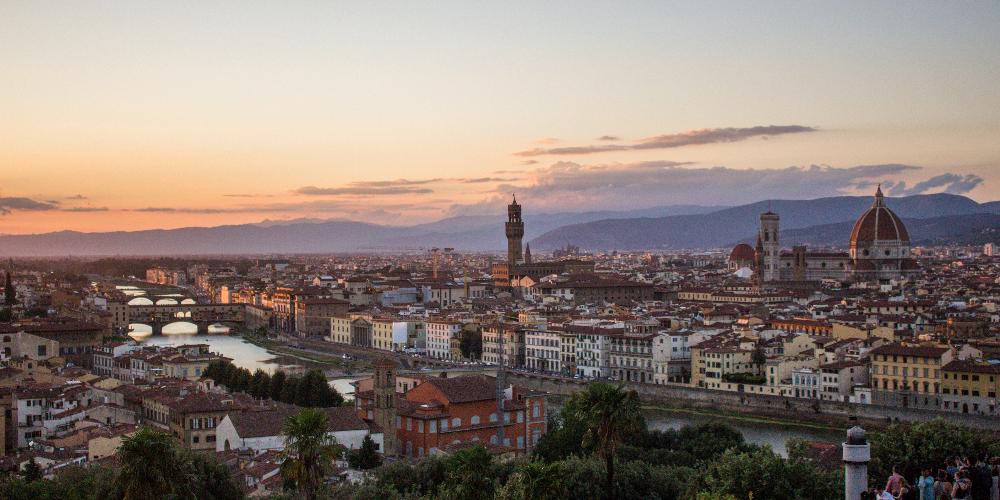 FUA's Housing Office is pleased to assist with the housing arrangement process for students. They do not own or lease apartments but work as a facilitator to assist students in finding accommodation during their stay in Florence. Students choosing to secure housing independently must notify by indicating their preferences on their admission application. Housing options are:
 
Shared Apartment Housing: Apartments are located throughout the historic center of Florence, within a 15-20 walk to FUA facilities. The Housing Office will complete assignments only for students who request housing within the designated deadline. Apartments are fully furnished and utilities are included in the housing cost. The standard layout of the apartments consists of multiple bedrooms and bathrooms, kitchen, and living/dining room space. The bedrooms range from single bedrooms for one occupant to triple bedrooms, with the occasional quad space. Shared bedrooms can host 2 to 4 occupants. Although apartments are of the same standard and have similar facilities, no two apartments are alike. They are not all located in the same neighborhood but are all within walking distance to our campuses or the nearest bus route.
 
Host family - La Famiglia Italiana:
Students will live with a
host family
and be immersed in the Italian culture and language. Evenings and dinner meals are shared together. It should be noted that not all host families are a traditional family of parents and children. Families will vary in terms of age and family situation. Students choosing the host family option live with an Italian family within the greater area of Florence and not necessarily in the historic city center. Although the location will be easily connected, most host families require a short bus ride to reach the city center and school. Meals will be served at a specific time and students are required to attend dinner, thus punctuality is important as well as notifying in advance the host family when students wish to dine out.  
Summer School
Florence University of the Arts (FUA) offers many academic programs in the following areas:
Publishing, Digital Media, Visual Communication
International Hotel and Tourism Management, Culinary Arts & Food Service Management
Humanities and Fine Arts
Business and Economics
Italian language and Contemporary Italian Studies
Social Sciences
Academic information:
There are many sessions each summer with various lengths (3, 6, 9, or 12-week options). Students may combine courses from any session, with no class conflicts.
Course descriptions for each course can be found in FUA's Academic Catalog. These courses are not guaranteed to be offered each session.
Courses available for each session can be found in FUA's Academic Schedule. The right-hand side will list "open" or "closed".
College of Business Program: 
Earn a prestigious FUA certificate in restaurant management, fashion management, or sports management while adding a distinct practical edge to your business education. Earn an internship in fashion or sports management in a city known worldwide for food and fun. 
Students will earn up to three courses and can participate either in the 6-week May - June or the 6-week June - July session. 
BA Emphasis: Study restaurant management, retail management, or sports management towards your major elective requirements while completing an internship. 
Marketing and Management Majors: Complete an internship, earn university elective credits, and potentially satisfy your Retail Management elective credits. 
NOTE: No previous knowledge of Italian is required to attend or get accepted into FUA. All courses are offered in English with the exception of Italian language courses. Students are encouraged to take a survival course while studying in Florence.
Program Costs
Italy: Florence University of the Arts
Estimated Program Cost:
$17,182*
* estimated total cost of participation, actual amount depends on type of housing accommodation selected, actual airfare purchase price, personal spending habits, and other factors
Cost of studying on-campus*
*per semester, estimated, will vary per person
Tuition & Fees:

$4,527

Room & Board:

$4,580

Books:

$400

Personal Expenses:

$878

Transportation:

$320

---

Total:

$10,705
Dates & Deadlines
Program Dates:
Tuesday, August 22, 2023

to

Wednesday, December 13, 2023
Program Dates:
Sunday, May 14, 2023

to

Friday, June 23, 2023
App Deadline:
Saturday, October 1, 2022
Program Dates:
Monday, January 23, 2023

to

Wednesday, May 10, 2023
Eligibility Requirements to Study Abroad
The Study Abroad Center reserves the right to determine participants' eligibility to Study Abroad. Students must have a completed study abroad application, including supportive recommendation form(s). Additionally, students must meet all of the following in order to be eligible to Study Abroad:
Have a cumulative 2.5 GPA or higher at the time of application and maintain this cumulative GPA prior to departure and throughout the study abroad process
If your cumulative GPA is lower than 2.5, submit the following to the Study Abroad Center (103 East Bartlett):
Letters of reference from two academic contacts (e.g. academic advisor and former or current professor) supporting your pursuit of study abroad. If you are attending a faculty-led study abroad program, one of the letters must be from a course leader. However, if the program has two course leaders, only one of the letters can be from one of the course leaders.
Must be over the age of 18 years old
Must meet the course prerequisites (participation in the program is dependent upon meeting these)
Must be in good standing with the University
UNI's partner institutions may require additional eligibility requirements to be met, these vary from institution to institution. Please consult with the Study Abroad Center staff to discuss these additional requirements, if applicable.
Applicants traveling to a region of a country or a country with an overall Travel Advisory Level 3 (Reconsider Travel) or 4 (Do Not Travel) will not be eligible.
All study abroad applicants must pass the Study Abroad Applicant Assessment with a score of 70% or greater.
Applicants may be selected for an in-person interview before being accepted. Selection for an interview does not guarantee acceptance into the program. You will be contacted directly by the Study Abroad Center if selected for an interview.