Introduction
Consistently thought of as one of Ireland's most prestigious universities, at University College Cork (UCC), you have a chance to take courses from world-class lecturers at one of the safest and most beautiful universities in the world. Among its many accolades, UCC has been named the top university in Ireland on several occasions in the last two decades. UCC rests in one of Ireland's most arts center communities.
Location
The city of Cork has approximately 125,000 inhabitants and is the second largest city in Ireland. Cork is located on the busiest seaport on the south coast with mountains, hills, and river valleys to the north and east. The city itself has much to offer, including a marina, art galleries, history museums, opera house, shopping malls, movie theatres, historic castles, and much more. The weather in Cork is typically mild with wet winters and cool summers. Dublin is approximately four hours from Cork by bus or less than an hour by plane. Cork's new airport is located 6km from the university and has daily flights to Dublin, London, and other Euro destinations.
Academics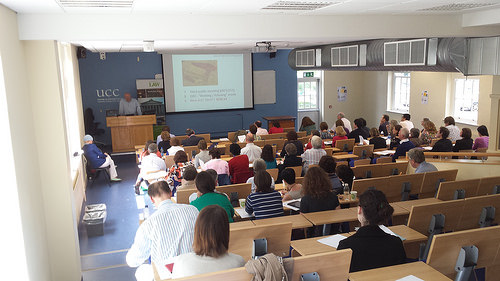 UCC offers an early start program for incoming students that begins about 3 weeks earlier than the semester. Students are not required to attend the program but it is recommended. This is only an option for the fall semester. Students will pre-register for classes prior to studying in Cork. There are courses available in the following areas listed below. The ones listed are not the only courses offered. Refer to the catalog for a complete list. UCC Course Catalog
Business
Economics
Biology/Chemistry
Psychology 
Criminology
English
History
Mathematics
Geography
At the University College Cork (UCC) students will take 4-5 classes that will earn 12-18 U.S. credits or 30-35 Cork credits. Classes are a mix of foreign and Irish students and are generally small to facilitate participation. Courses typically consist of 2 lectures a week, 12 weeks total, with 2 exams or essays, and are worth 5-10 credit classes each. Currently offer a pre-sessional 4-week course in subjects of Irish Archeology, English, History, Folklore, and Marketing.
 
Credit Equivalent/Grade Conversion:
Credits                                                  Grades
20 UCC credits  = 10 sem hrs             70+    = A
15 UCC credits  = 7.5 sem hrs            65 – 69      = A-
10 UCC credits  = 5 sem hrs               60 – 64      = B+
5 UCC credits  = 3 sem hrs                 55 – 59    = B
2.5 UCC credits = 1.5 sem hrs            50 – 54    = B-
                                                            45 – 49    = C+
                                                            40 – 44    = C
                                                            35 – 39    = C-
"Early Start" = 5 sem hrs            Less than 35 = no transfer credit
Participant Info
Important information to review:
Review the roles of the Advisee and the Advisor under the main menu Get Started
Entry and Exit Requirements:
Review and follow the travel recommendations of the CDC for the United Kingdom
Monitor appropriate websites for updates and information about COVID or other emergencies before departing and while in the destination country. The U.S. Embassy for the United Kingdom provides updates that can be found on their website
Housing & Meals
Housing:
​On Campus Apartment/ Dormitory 
Off Campus Apartments 
UCC campus accommodation includes a variety of housing styles, including apartment/dormitory style living or off-campus accommodation. Three to six students live with each other in each apartment; single rooms with sink and mirror in each room. Postal service exists in the DOR office along the housing grounds 8AM-8PM, bus stop is right in front of entrance, smoke alarms included, laundry is available, trash is taken once a week, and there is a fob/key opening for apartment security. Students are responsible for securing their own accommodation and paying the deposit. 
Meals:
Apartments are equipped with pots, pans; bedding and cleaning supplies available for purchase upon arrival. Students may sign up for a weekly grocery delivery, complete with a recipe with ingredients for 10 EUR/week. This is for students that are not used to living away from home and cooking for themselves; the recipes give them balanced cooking ideas. Most international students stay in Castlewhite Apartments, Victoria Lodge or University Hall.
Summer School
International Summer School in Irish Studies
The 42nd International Summer School in Irish Studies will run from July 3rd - July 28th, 2023.
For the month of July, students explore key turning-points in Ireland's history that shaped its destiny and identity and examine how modern Irish writers of international significance sought to define a sense of cultural identity. These themes are approached in interactive lectures, seminars, and in a series of field trips, delivered by leading experts.
The Summer School aims to provide a unique learning experience by combining a rigorous introduction to major academic themes in the development of Irish identity with an opportunity to encounter Ireland's rich cultural landscape through expert tuition, optional courses in Irish language and a lively social program.
Please note that more information about the upcoming Summer School, such as its cost, structure and content, will be available in late January 2023.
Program Costs
Ireland: University of College Cork
Estimated Program Cost:
$21,019*
* estimated total cost of participation, actual amount depends on type of housing accommodation selected, actual airfare purchase price, personal spending habits, and other factors
Cost of studying on-campus*
*per semester, estimated, will vary per person
Tuition & Fees:

$4,527

Room & Board:

$4,580

Books:

$400

Personal Expenses:

$878

Transportation:

$320

---

Total:

$10,705
Dates & Deadlines
Program Dates:
Monday, July 3, 2023

to

Friday, July 28, 2023
Program Dates:
Friday, August 18, 2023

to

Thursday, December 21, 2023
Program Dates:
Thursday, January 12, 2023

to

Friday, May 12, 2023
Eligibility Requirements to Study Abroad
The Study Abroad Center reserves the right to determine participants' eligibility to Study Abroad. Students must have a completed study abroad application, including supportive recommendation form(s). Additionally, students must meet all of the following in order to be eligible to Study Abroad:
Have a cumulative 2.5 GPA or higher at the time of application and maintain this cumulative GPA prior to departure and throughout the study abroad process
If your cumulative GPA is lower than 2.5, submit the following to the Study Abroad Center (103 East Bartlett):
Letters of reference from two academic contacts (e.g. academic advisor and former or current professor) supporting your pursuit of study abroad. If you are attending a faculty-led study abroad program, one of the letters must be from a course leader. However, if the program has two course leaders, only one of the letters can be from one of the course leaders.
Must be over the age of 18 years old
Must meet the course prerequisites (participation in the program is dependent upon meeting these)
Must be in good standing with the University
UNI's partner institutions may require additional eligibility requirements to be met, these vary from institution to institution. Please consult with the Study Abroad Center staff to discuss these additional requirements, if applicable.
Applicants traveling to a region of a country or a country with an overall Travel Advisory Level 3 (Reconsider Travel) or 4 (Do Not Travel) will not be eligible.
All study abroad applicants must pass the Study Abroad Applicant Assessment with a score of 70% or greater.
Applicants may be selected for an in-person interview before being accepted. Selection for an interview does not guarantee acceptance into the program. You will be contacted directly by the Study Abroad Center if selected for an interview.